Calling all fellow BYU bloggers:
I'm so excited to announce a BYU blogger meet-up!
(if you're a college-aged blogger in the Provo area but don't go to BYU, you're totally invited too!)
Reserve the evening of Thursday, March 8!
Won't it be great to meet local people whose blogs we adore? How cool would it be to real-life friends with someone, not just blog friends? It will be an evening of new friends, delicious desserts, raffle prizes, and great conversation.
Time and venue details will come soon. We need to get a general idea of how many beautiful attendees we'll have before we decide between our venue options.
If you want to come (which you all do, of course), leave a comment HERE. This is not a full-fledged attendance commitment, but just comment if you're interested so we can get a general headcount for venue-booking purposes. Also, you can check out other people who commented and find other lovely BYU bloggers who may be there.
Grab the button below and put in on your sidebar to help spread the word! The more the merrier, right?
Be sure to let other Provo college bloggers know!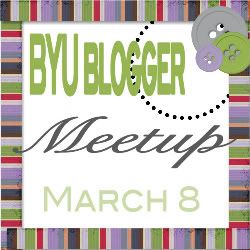 Yay for new friends,
delicious treats,
and fabulous conversation
at the March 8 BYU blogger meet-up!